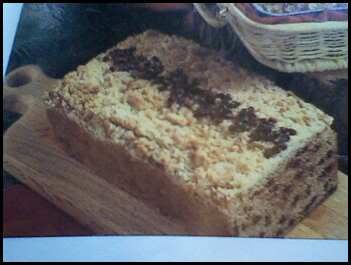 This cake was just fun.
I made it late at night... I can't recall why I couldn't sleep.
I remember Thunderous couldn't either and ended up down in the kitchen as it came out of the oven.
We shared a piece and had a great debate over this recipe.
Thunderous stands that it is named incorrectly. It is baked in a loaf pan...therefore it is a quick bread and should be called Streusel Apple-Spice
Bread
.
I hold that he is too literal and it is indeed a cake.
The next morning when the rest of the family had some we asked their stand.
Mouths full they would only say, "It's GOOD!"
Now you try it and decide: Cake or quick Bread
I was lucky enough to have apples that the kids and I had picked, peeled, sliced and frozen the fall before. They worked beautifully in the recipe!
I may try it with fresh apples next time.
It is an excellent fall flavor and I look forward to baking it as the days get chilly.
Who knew chocolate complimented apple so well!
*sigh*
either I am terrible at searching the Hershey's site for recipes or they just did not add the ones from this spectacular book to the site!
Again. I will attempt to photo the recipe and post....must have feed back!